Delivery Policy
GUARANTEE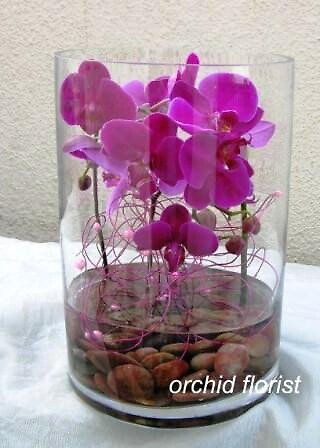 At Orchid Florist, we pride ourselves on our fresh and beautiful flowers, and we also take great pride on our floral products which are professionally arranged and packaged. We want the recipient of your gift to have a positive experience. If you or the recipient of your Orchid Florist gift are not completely satisfied, please contact us immediately.

As part of our guarantee, we will offer you a full refund or replacement. Please see our replacement (under terms and conditions) and substitution policies.
DELIVERY
To assure proper and timely delivery, please be sure to give us the correct spelling of the recipient' s name, proper address and a good telephone number to reach the recipient. If applicable, please give us the apartment number, suite number or building number. Please advise us if this is a business, church, or mortuary and/or has restricted hours of operation. If the delivery is for a residence and someone will be home only during certain hours, please advise us. If you are aware that we are to deliver to a gated community or locked building, please advise us. If the area is unsafe especially after dark, please advise us. We expect that the recipient will be available for any order we deliver and we do not accept any responsibility for damages caused by a recipient who is not available (i.e. out of town, hospitalized, moved, wrong address, etc.).
We will make every attempt to accommodate any request for a specific time delivery but we cannot guarantee. If time is a factor, we ask that you consider making the order AM or PM. We are unable to accept deliveries for Sunday. Orders received for delivery that day will be delivered the following day. If notified in advance, we can make a Sunday delivery on the preceding Saturday.
If no one is available at the premises when we attempt delivery, we will as a rule leave the delivery at the premises (usually the front porch) and call the recipient to advise them that we made a delivery. However, if we feel the area is unsafe, unprotected or we cannot get entry, we will return the order to our shop and attempt to contact the recipient to arrange for a time we can re-deliver. There may be an additional charge for the re-delivery. Delivery charges apply per order. The delivery charges vary depending where we deliver (see below for delivery zones with pricing).

Local Delivery:to the East Bay Area
Local deliveries are normally made during our regular business store hours Monday- Friday 9a-6p and Saturday 9a-5p. For same day delivery, we should receive orders by 12 noon PST. For orders received after 12 noon PST, it may be necessary to deliver the next business day. For a delivery placed after 12 noon for delivery the same day, please feel free to call us to ask if we can accommodate your request.
We will try to meet requests for specific time, but we cannot guarantee a specific time. Please try to make AM or PM. We will take requests for AM or PM delivery, but there may be circumstances beyond our control that will prevent us from meeting that commitment.
IMPORTANT: Our primary local delivery area is the SF Bay Area, East Bay.
Please call us if you want us to deliver directly and are unsure if we go to the recipient's location. Our number is (510)528-9320

Local Delivery Charges:
Zone 1 - $12.00 - Berkeley, Albany, El Cerrito, Kensington
Zone 2 - $15.00 - El Sobrante Emeryville, Richmond, San Pablo
Zone 3 - $20.00 - Oakland, Piedmont, Alameda, Hercules, Lafayette, Orinda, Pleasant Hill, Rheem, San Leandro, San Lorenzo
Zone 4 - $25.00 - Alamo, Blackhawk, Castro Valley, Danville, Diablo, Hayward, Martinez, Treasure Island, San Francisco, San Rafael
Zone 5 - $30.00 - Clayton, Concord, Fremont, Mill Valley, Newark, Pacheco, San Ramon, Sausalito, Union City, Vallejo, Walnut Creek
Domestic:
W service areas in the US outside of our SF Bay Area East Bay local delivery area. We will arrange with another quality florist who we feel is best able to fill your request. We cannot guarantee the quality or availability of flowers of any other florist. However, if for some reason you are not satisfied, please call us immediately and we will resolve ay issue. We cannot guarantee delivery time when contacting another florist for you, but we will advise them of your request. Please remember that many florists are closed on Sunday. Please call us to place a domestic flower order at (510)528-9320.

Domestic Delivery charge:
$20.00

International Delivery:
Please call us directly as we cannot accept international orders over the internet. See our contact page.
We would contact another professional florist who could fill the order to full value and still maintain top quality.
Because of the time difference, it is impractical for us to guarantee a specific delivery schedule. We do not guarantee same-day delivery on international orders as it may take 2-3 days to process. We advise that you call us at least 3 days in advance.We cannot guarantee a specific request with an international order because of time differences, culture and other things beyond our control. We will, however, advise of the request. Please call us to place an international flower order at (510)528-9320.

International charges:
Relay fee: $15.00 plus delivery fee depending on country.

Holiday:
Because of the intense volume, we may not be able to honor any request for delivery for a specific time, but we may attempt such deliveries depending on volume.
Our busiest holidays are Valentine's, Mother's Day and during the Thanksgiving -Christmas Season. Please call at least several days in advance for a delivery request during these busy times.
Many florists are closed during legal holidays such as 4th of July, New Year's,etc.
We may not be able to leave any message for the recipient during a busy holiday.
For a non-local delivery (domestic or international) , there may be additional restrictions about which we have no knowledge and which will be beyond our control. For example, deliveries may be restricted or eliminated at a certain point.